So, it's been a couple days since the Twins traded Matt Garza, Jason Bartlett, and that other minor-league pitcher guy to the Rays (minus the "Devil") for Delmon Young, Brendan Harris, and that other minor-league outfielder guy.
The Twins blogosphere is generally in favor of this trade, with some concerns regarding Young's professionalism. I agree, although losing Bartlett was kind of a surprise.
It is interesting to note that both Garza and Bartlett were held back in the minors much longer than many fans would have liked. Perhaps the organization simply didn't like them.
I never was especially impressed by Garza's pitching. It just drove me nuts that he was in love with his fast ball so much. And it always sounded like he was "difficult".
I liked Bartlett fine, but his number of errors drove me nuts, and his bat tended to be too streaky for my liking. But he was fast, and he had a nice stolen-base streak going for awhile last year.
I am looking forward to seeing what Young has. Let's hope his hot-headed days are behind him. Can you imagine Young and Gardy engaged in a temper-tantrum?
I'm undecided on Harris. Some seem to think he's an upgrade from Bartlett. Others don't think so. We'll have to see.

There are plenty of analyses all over the blogging world comparing all their skills, but no one has mentioned one very important reality: the Twins have just taken a giant downgrade in the Hot Guy Index (HGI).

Garza is gorgeous, with his pearly-white smile, his curly dark hair, and his adorably too-big nose.




And Barty is just plain cute, with his little goatee and shy smile.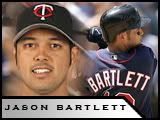 Add that to the loss of Torii, with his million-dollar smile and flirty laugh.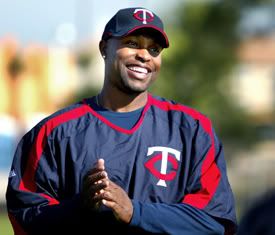 And Johan -- the hottest guy in all of baseball, with his Latin-lover eyes and sexy behind -- is likely to be gone soon too.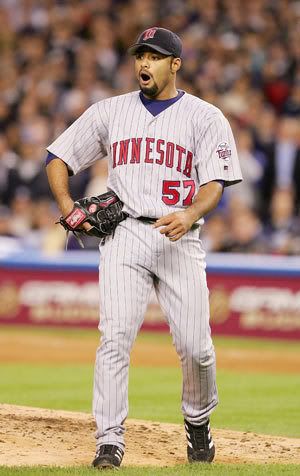 Now, there's nothing really wrong with Delmon Young, in fact he's got a pretty cute smile, but he's not Torii.



But Brendan Harris is, well, kind of "meh". Nothing special.




So, what's a girl to do? I am still grateful for the hotties I still have, but I will sure miss those guys.

To the ladies of Tampa Bay, Anaheim, and New York (or wherever Johan goes): enjoy them, admire them, drool over them, love them. And count yourselves lucky you have them.