Randy Johnson announced his retirement today. He's had a hell of a career, and everyone expects a call to the Hall in five years -- he's certainly earned it. But in addition to being one of the best pitchers in the game, he's one of the true badasses in the game. How can you not love that?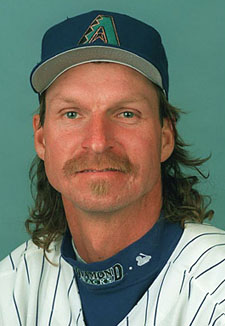 He's 6'10". He towers over most everyone. You look up to him; therefore, he's important.
His nickname is "The Big Unit." Many guys claim to have a big unit; he's the only guy who is. And rumor has it that he rocks the name, too.
He's damn ugly. And not just unattractive-ugly. He's downright scary-mean-ugly. You don't want to spill his beer.
Except for his Yankee years, he rocked the mullet. Jared Allen is in awe.
He threw nearly 100 miles per hour. And he was almost as likely to hit a guy with that pitch as strike him out. There's no getting comfortable in the batters' box against him.
The man killed a bird ... with a baseball. That kind of stuff doesn't happen to nice boys.
He pitched a freakin' perfect game. That alone earns him a million credibility points. Plus, it's a great way to pick up chicks.

Oh yeah, he's pretty good at baseball, too.
303 wins; 166 losses; 3.29 ERA; 618 games; 603 starts; 100 complete games; 4135.1 innings pitched; 3346 hits; 1703 runs; 1513 earned runs; 411 homeruns; 190 hit batters; 1497 walks; 4875 strikeouts

Best of luck Badass. I'll miss you.